The ancient Roman and Greek cultures had a very different attitude about sexuality than successive European cultures, more akin to that of the Kama Sutra. This, of course, was unimaginable to latter day Europeans, who rigidly compartmentalized body, mind and spirit, and to whom any sexuality was sinful and morbid.
Some of the best artistic expressions of this can be found in the recovered city of Pompeii. Pompeii was frozen in time by the volcanic eruption of Vesuvius in 79 A.D., and not unearthed until 1748. Pompeii was a seaside resort, devoted to the arts, relaxation, and the pursuit of pleasure. The excavators were horrified to discover erotic frescos, mosaics, statuary and phallic votive objects.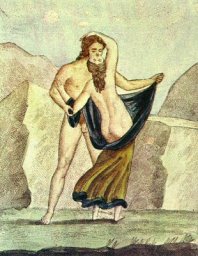 The moveable erotic artifacts were taken to Naples and kept in seclusion in the Royal Museum. The erotic wall and floor art had lockable metal boxes constructed over them and were displayed to tourists for an extra fee (women and children excluded). When I visited Pompeii in the late 1960s, this peepshow was still in operation.